Located in Southern BC, Kelowna holds the heart of the beautiful Okanagan Valley. Known to wine lovers as Kelowna-fornia, Kelowna boasts over 40 wineries and over 300 days of sunshine every year. If you're dreaming of sandy beaches and summer days on the lake, or even a cozy, winter ski vacation, look no further. Kelowna is vibrant in all seasons and offers things to do for every age.
In this article, we'll take a look at the different types of Kelowna accommodations available. Whether you're staying for a weekend, a week, or for several months, Kelowna has a variety of options. With luxury amenities, on-site dining and a central lakefront location, The Shore Kelowna is an accommodation that has it all. 
Kelowna Airbnb & VRBO
Airbnb and Vacation Rental By Owner (VRBO) have sky-rocketed in popularity since the early 2000s. Operated as a community for sharing spaces, these platforms offer owners a place to list their accommodations for booking anywhere in the world.
Airbnb is unique in volume and extensive reach, with over 7 million listings in 220 countries. Airbnb is also known for uncommon rentals, such as the Potato Hotel in Idaho or the Lego House in Denmark. Almost anyone can be a host on Airbnb, with the expectation that hosts abide by Airbnb quality standards.
VRBO is similar in that anyone can host their home on the platform. Guests are ensured an entire rental to themselves, as opposed to Airbnb's which are often shared with the property hosts. 
Each platform has its perks, and they each have limitations. Both platforms charge service fees to guests with each transaction. For guests, these fees typically range from 10-13%. 
Airbnb and VRBO platforms also leave property management to the homeowner. This can result in a great experience if the property is managed well, but can lead to disappointment if the property isn't as the listing or reviews describe. 
As a trusted alternative, The Shore Kelowna vacation rentals are quality assured through RISE property management. The entire booking process can be done online, and contactless check-in and check-out provide additional privacy. With no platform service fees and a central location steps to the beach, The Shore has everything you need for a memorable Okanagan vacation.
Kelowna Hotels
If you're looking for quality-assured accommodations in the Okanagan, hotels are another great option. Hotels typically cost more than other types of rentals, with the added expense of amenities, location and comfort. 
Hotels, Airbnb's and VRBO's can be similar in price, depending on the location and unit being offered. Hotels are typically chosen for short stays, and are located along major routes for convenience or around tourist hubs, like the lakefront or downtown Kelowna. 
As a unique hotel alternative, The Shore Kelowna offers many luxury amenities including a fitness center, community barbeques, an outdoor terrace with fireplace, modern in-suite kitchens and private patios. On-site dining and close proximity to Kelowna tourist attractions bring together all the comforts of a hotel stay, with the flexibility of a vacation rental.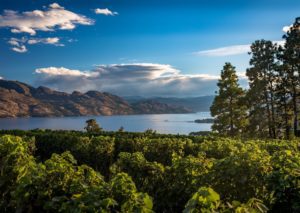 Kelowna Apartments & Condos
For extended stays, apartments and condos are a popular long-term alternative. These large buildings of multiple residential units can be rented out for weeks, months, or even years. As a rapidly growing city, Kelowna has numerous buildings in development at all times. 
For rental accommodations, privately owned condos run similar risks to Airbnb & VRBO. These units can be mismanaged, resulting in unexpected disruptions and poor-quality stays. As a short-stay condo alternative, The Shore Kelowna offers extended rentals with superior quality assurance.
The Shore consists of 103 modern apartment units, one floor of offices, and a handful of retail and restaurant spaces. All apartments are furnished with state-of-the-art culinary kitchens and interiors, and beautiful views of Okanagan lake.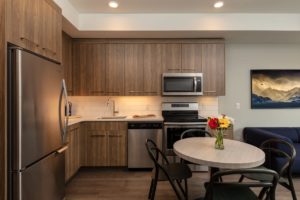 Kelowna Resorts
While hotels and apartments primarily offer a place to stay, resorts go a step farther in offering experiences and entertainment. All-inclusive resorts, such as those south of the border, typically offer complimentary food and beverages, excursions, water sports, spa treatments, and more. Resort Hotels simply differentiate themselves by offering more amenities and services than a regular hotel.
The Shore Kelowna can be considered a resort because of its luxury amenities, beachfront location, and on-site dining and entertainment. The Shore has multiple restaurant options, including plant-based KB&Co Conscious Eats, Diner Deluxe, and craft beerhouse Shoreline Brewing. T-One Restaurant offers Asian-Fusion ramen & rice bowls, and Pizza Hut and Marble Slab Creamery offer comfort food steps from your rental. 
While Spa services aren't included in your stay, Kelowna's prestigious cosmetic & anti-aging clinic, Derm Medica, is located on-site. The clinic offers a variety of treatments, including facial peels & microdermabrasion, with over 20 years of experience and free consultations.
The Shore's central location provides many dining, shopping, fitness and entertainment options, all within walking distance. Steps from Gyro Beach, The Shore has everything you could desire for a Kelowna resort experience.
Kelowna Cabins
Traditionally, cabins are known as small, remote, hand-built dwellings. In Kelowna accommodations, the term cabin is often used interchangeably with a lake house. These cabins often have private beach access and are owned by family or friends. When locals speak about a 'weekend at the cabin', it's usually a getaway from the city with days spent on the lake.
If a vacation away from everything is what you're looking for, a cabin may be your solution. Things to consider for these rentals are having to go into town to get groceries, cooking your own meals, and making your own entertainment outdoors.
If you're looking for the best of both worlds, The Shore Kelowna offers a great cabin alternative. With direct access to one of Kelowna's best beaches and water sports, days at the lake are steps from your rental. A short drive to Okanagan Mountain Park gives you access to over 10,000 hectares of hiking, and nearby bicycle rentals provide leisurely transportation along the lakefront. 
When you've had enough fresh air for the day, a central location means that everything you need is conveniently on site. Dinner is ready when you are, for dine-in or takeout. An outdoor terrace with a fireplace allows you to comfortably enjoy the outdoors into the evening, and private patios with lake views mean that you're always close to the lake.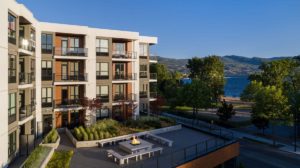 Kelowna Cottages
A cottage is traditionally a small, simple house near a lake or beach. In modern usage, a cottage is often close to nature and is valued for its privacy. If you're interested in getting away from the city, a cottage may be your ideal accommodation. However, we encourage you to consider the amenities that you're looking for in your vacation getaway.
As a cottage alternative, The Shore provides privacy through no-contact digital access. Designed as a hotel econcierge property, The Shore has no front desk and no on-site concierge. Everything is done electronically, allowing guests access to services and amenities without having to go through reception. 
The Shore offers a central location with nearby activities for the whole family. Two and three-bedroom suites are available if you're looking for separation for siblings, and all suites are pet-friendly so no one gets left at home.
Your Have-It-All Kelowna Accommodations
The Shore Kelowna is a modern apartment-style rental property, steps from Okanagan Lake. With the perfect combination of flexibility and luxury, The Shore delivers everything you need for an idyllic Okanagan vacation.
To learn more about our suites or secure your accommodation in Kelowna, please contact us today. Whether you're from out of town or a local looking to enjoy a relaxing staycation, we can't wait to welcome you to The Shore!