Picture this: you're strolling down our city's picturesque streets, the sun warming your face, and a gentle breeze rustling the leaves of the trees. You've already explored the local wineries and biked along the stunning Kettle Valley Rail Trail and now it's time to reload your energy and indulge your sweet tooth. Luckily, there are many bakeries around town to satisfy your appetite.
In this guide, we'll take you on a tour of Kelowna's best bakeries and pastry shops. So, get ready to savour the artistry of some amazing pastry chefs!
Specialty Bakery & Bistro
If you're looking for freshly-baked, handcrafted artisan breads, then look no further than Specialty Bakery. Their bread list is long, including French, ryes, sourdough, whole wheat, 9-grain and classic white sandwich breads. They even offer gluten-free options! Grab some European rolls for at-home lunches and don't forget to add some sweet treats in the form of fresh donuts, pastries, cakes and cookies.
833 Finns Rd, Kelowna, BC
22 min (10.4km) drive from The Shore
Sandrine French Pastry & Chocolate
Sandrine is Kelowna's little slice of France, located in the heart of the city. It's a delightful treasure trove of sweet treats – from croissants that are oh-so-flaky to éclairs that will transport you straight to the streets of Paris. But don't forget their savoury bites, such as traditional tourtieres, quiches, and croques. They take their chocolate seriously here, so don't forget to grab a few handcrafted chocolates on your way out.
1865 Dilworth Dr, Kelowna, BC
16 min (7.1km) drive from The Shore
Sprout Bread
Boasting beautiful breads made with 100% organic flour, Sprout is the perfect place to drop in and grab a loaf for your next dinner party. From classic sourdough to a flavourful focaccia, there's something for everyone. Try their Danish muesli rye, which is packed with seeds, buttermilk, liquid malt syrup, an assortment of dried fruits, and beer from their good friends over at BNA. Be sure to check out their monthly rotating feature menu, which offers local dishes prepared with care by Chef James McKenzie and his awesome kitchen team.
1295 Cannery Ln #125, Kelowna, BC
15 min (4.5km) drive from The Shore
Bliss Bakery
For a relaxed vibe, head to Bliss Bakery, where you can enjoy your treats in a cozy, homey atmosphere or relax on their pet-friendly patio. Choose from a large selection of desserts, breads, and croissants – all made using real ingredients. Their cinnamon buns are legendary, and the aroma alone is enough to draw you in from the street. Plus, their coffee is brewed from locally roasted, organic Cherry Hill beans, so make sure to pair your pastry with a perfectly brewed cup. Don't have time to stay? No worries, take your treats to go and grab a delicious meal for later from their frozen foods freezer. 
1289 Ellis St #109, Kelowna, BC
12 min (4.4km) drive from The Shore
Karat Chocolate & Pastry Boutique
For those who like their pastries with a touch of luxury, Karat Chocolate & Pastry Boutique is your go-to destination. Their attention to detail and quality is evident in every delectable bite. Try their macarons: like edible jewels, each with a burst of flavour from the highest quality ingredients, which they source locally when they can, and chose ethically when they need to go further afield. Stop by the café for some Phil & Sebastian coffee and handmade pastries.
1526 Ellis St, Kelowna, BC
12 min (3.8km) drive from The Shore
Bread Co.
Last but certainly not least is Bread Co., where the 5th generation owners and bakers continue to use age-old recipes and traditions to create their unique and delicious breads and pastries. Grab one of their delicious sandwiches, hot or cold, to go, or dine in for the full experience. Their pastries are no slouches either, with favourites like flaky buttery croissants and fruit-filled turnovers available all day (or until they sell out, so make sure to get there early).
2949 Pandosy Ave, Kelowna, BC
4 min (1.2km) drive from The Shore
Touring Kelowna's Best Bakeries
In a place known for its natural beauty, Kelowna's bakeries and pastry shops bring a touch of culinary beauty to the table. Whether you're a sweet tooth connoisseur or someone who appreciates a well-made croissant, these spots have got you covered. Looking to work up an appetite? Rent a kayak or stand-up paddleboard and get out on the water. Or enjoy the view on a local hike. And don't forget to top it all off with one of these awesome happy hours.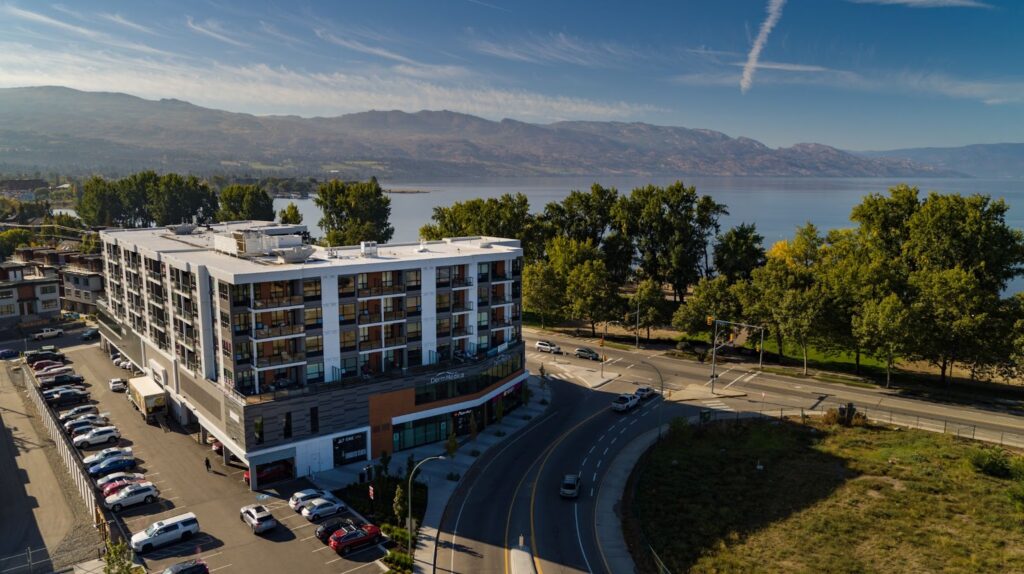 Staying at The Shore
After touring the cities best bakeries, there's no better place to come back to rest and relax than your own private suite at the Shore. Amenities include in-suite laundry, a full-sized modern kitchen (with plenty of room to store those baked goods), and high-speed internet so you can spend more time out and about and less on errands.
Learn more about our suites to start planning your stay today!