Traveller needs are rapidly changing in the 2020s. When COVID-19 hit the hospitality industry, hotels experienced an unprecedented challenge to their business models.
Across the accommodations sector, flexible and extended-stay hotels saw the smallest decline in bookings. Flexible stays are hotels that offer both short-term and extended rentals with apartment-style rooms, home-like amenities, and competitive rates.
Here are three reasons today's travellers are picking flexible-stay hotels over conventional hotels:
Flexible-stays offer the comfort and convenience of being at home.

They're spacious enough to be a safe option for families and group stays.

They offer unbeatable value with no lease agreement.
If you're planning a holiday in the Okanagan, a flexible-stay hotel offers a home-like travel experience without breaking the bank.
A Safe Space that Feels Like Home
Staying in Kelowna for longer than a weekend? You're going to need more than a mini-fridge, a baby coffee machine, and a room service menu.
Fortunately, extended-stay hotels were designed to meet the needs of long-term travellers.
Work Remotely
If you count yourself amongst the ~40% of Canadians now working from home, you'll  need a room with a desk, a comfortable chair, and reliable internet that doesn't nickel-and-dime you.
If your partner is also working remotely, you'll need enough space for both of you to focus. Extended-stays like The Shore offer 2 and 3 bedroom suites so you can bring the whole team and have space to finish your work.
Dine in
When you get tired of eating out, having a well-equipped kitchen and access to grocery stores makes all the difference. The Shore is a 5 minute walk to Save on Foods and Urban Fare. You can eat healthy, organic food and enjoy Okanagan wines without overspending at Kelowna's restaurants.
If you're too tired to cook after a day of adventure, most Kelowna restaurants offer delivery service via DoorDash or SkipTheDishes. The Shore also boasts multiple restaurants and a Marble Slab Creamery on site, meaning dinner and dessert is right out your front door. 
Exercise Safely
Extended-stay hotels offer more spacious indoor and outdoor exercise areas than most hotels.
In Kelowna's South Pandosy Mission neighbourhood, your recreation options are limitless. You can ride your bike down the Mission Greenway trails, swim in Okanagan Lake at Gyro Beach, or visit the H20 Centre, Kelowna's biggest indoor recreation facility.
It's a short walk down Lakeshore drive to Okanagan Lake Boat Rentals where you can get private waterskiing and wakesurfing lessons. If you're craving mountain air, Big White Ski resort is only a 1 hour drive from town.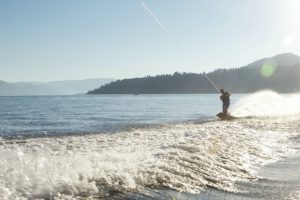 Easy Family & Friend Stays
If you've ever gone on holiday as a group, you know that planning gets tricky when people have different arrival and departure dates. Some folks stay for a month, while others only hang out for a weekend. If your hotel gets too busy, you might end up staying across town, or in a completely unaffordable room.
Keeping your group together is easy at a flexible-stay hotel. The Shore Kelowna has a variety of bookable rooms that include 2 and 3 bedroom suites, family-friendly rates, and contactless check-in/check-out.
If your social bubble includes a furry friend, most flexible-stays let you bring along pets with no hassle. There's enough outdoor space for Fido to manage his business too.
Above all, the prices at extended-stay hotels make it easy to convince your friends or relatives to come along.
Unbeatable Value
In a world filled with uncertainty, price flexibility takes some of the stress away from vacation planning. Extended-stay hotels like The Shore offer compelling value compared to hotels with rooms starting at $119 per night.
Flexible-stays offer monthly hotel rentals without making you commit to a lease agreement. They can also offer lower booking prices compared to standard hotels for two main reasons:
Guests often rent rooms by the month at flexible-stay hotels, so fewer staff are required cleaning and maintenance.

The construction costs of flexible stays are lower than hotels or resorts that spend excessively on ornaments, water features, and manicured outdoor spaces.
The Shore is located in the Lower Mission, one of Kelowna's most popular areas for holiday goers. Walking distance from hot sand beaches, watersport rentals, and world-class restaurants. Explore the fine art galleries and boutique clothing stores along Pandosy Avenue, and stop in for a latte at one of the many great coffee shops.
At the Shore Hotel you're also a 10 minute drive from Kelowna's downtown core. Explore 5 star restaurants, Playtime Casino, and the Kelowna Yacht Club, with direct biking routes from the Lower Mission if you don't feel like driving. 
Your Kelowna Flexible-Stay Hotel
There's no need to spend big on accommodations to have a comfortable Okanagan holiday. Flexible-stays give you enough space to work, cook, and exercise the way you want. With hotel rooms and rates to fit any budget, nobody has to feel left out.
Check our availability and come see for yourself.