From museums and arts centres to sculpture gardens and gift shops, Kelowna has a vibrant cultural landscape that can keep an art lover occupied for days. Since it often gets overshadowed by Kelowna's famous beaches and vineyards, we're here to share what spots are worth visiting for art enthusiasts.
The Shore Kelowna is located in Kelowna's Lower Mission neighbourhood, steps away from plenty of attractions of its own and a quick 10-minute drive from the city's cultural district. We've put together an itinerary for an colourful afternoon filled with coffee and artistic inspiration. Let's get started!
Marmalade Cat Cafe
The Marmalade Cat Cafe has been a local favourite since it opened its doors in the late 90's. You'll find it in the heart of Pandosy Village inside a colourful, Victorian style building. Fuel up for your big art day with a flat white and a signature homemade panini. The best part? The Cat partners with the Kelowna Arts Collective to feature up-and-coming local artists on their walls.
​​Open weekdays starting from 7am and weekends from 8am, or as listed on the Marmalade Cat Cafe website.
Location: 103 – 2903 Pandosy Street
4 min drive (1.2 km) from The Shore
Karmyc Bazaar
With the help of over 100 Canadian artists, boutique owner Jennelle McGuire has created an immersive shopping and art-viewing experience. You'll easily get lost among her knick knacks and treasures, and you'll probably leave with a few of your own. Think pottery, jewelry, miniature sculptures, macrame, and anything else that an artisan can make.
Open weekdays from 11am – 5pm and Saturdays from 11am – 4pm, or as listed on the Karmyc Bazaar website.
Location: 2995 Pandosy Street
2 min walk (150.0 m) from Marmalade Cat
Geert Maas Sculpture Gardens and Gallery
This unique outdoor exhibit is completely dedicated to the work of Netherlands-born sculptor, Geert Maas. The sprawling gardens are home to one of Canada's largest collections of bronze sculptures, as well as paintings and other works. Enjoy the outdoors while browsing the artist's creations. If something piques your interest, ask about it! Much of the art is for sale.
Open daily from 9am – 4pm, or as listed on the Geert Maas website. Admission is by donation.
Location: 250 Reynolds Road
18 min drive (11.1 km) from Karmyc Bazar
Opus Art Supplies
Not your average art store. Opus has been a great supporter of the arts in Kelowna for years. It carries excellent, top-of-the-line supplies for professional artists and hosts an array of classes and workshops on specialized techniques. Ever wanted to master depth, or learn how to make prints? This is the spot for you.
Regular and holidays hours can be found on the Opus Art Supplies website. If you plan on making this a regular stop, be sure to inquire about their memberships for extra perks and savings.
Location: 1357 Ellis Street
14 min (9.6 km) drive from Gert Maas
Hambleton Galleries
The Hambleton Galleries are the oldest art dealers in the Okanagan Valley, having curated their first exhibit in 1963. In those nearly 60 years, they've brought in internationally recognized names such as Robert Genn, Allen Sapp, and Daphne Odjig. The owners' enthusiasm is palpable, and they have a reputation for providing their clients with exactly what they're looking for.
If you're looking for custom artwork or have a space in mind, we recommend booking an appointment before your visit. Hambleton Galleries offers art consultations and professional mock-up services to make sure your new art is a perfect fit.
Open daily from 10am – 5pm, or as listed on the Hambleton Galleries website.
Location: 1290 Ellis Street
3 min (240.0 m) walk from Opus
Kelowna Art Gallery
Kelowna's flagship art gallery boasts some of the city's most celebrated collections, and then some. There are four gallery spaces for patrons to peruse, including a permanent collection and an outdoor courtyard dotted with historical and contemporary Canadian art. If you're feeling creative, join in for one of the gallery's guided hands-on activities, held every Sunday. The gallery also hosts workshops, children's art classes, and talks throughout the year. See the full events schedule here.
Open Tuesday through Sunday, with hours and admissions listed on the Kelowna Art Gallery website. On Thursdays, from 10am – 8pm, admission is free.
Location: 1315 Water Street
3 min (210.0 m) walk from Hambleton Galleries
Rotary Centre for the Arts
Located in Kelowna's cultural district, the Rotary Centre for the Arts is a multipurpose performance and arts venue that bustles with life on any given night. What started in 2002 as a much needed space for the city's growing arts scene, remains to this day a sought after venue by artists from across the province. End your Kelowna arts tour with a stand up comedy workshop, live jazz, or cabaret.
Tickets for events can be purchased online through the Rotary Centre for the Arts website. View the galleries page for current art exhibits and hours.
Location: 421 Cawston Avenue
1 min (110.0 m) walk from the Kelowna Art Gallery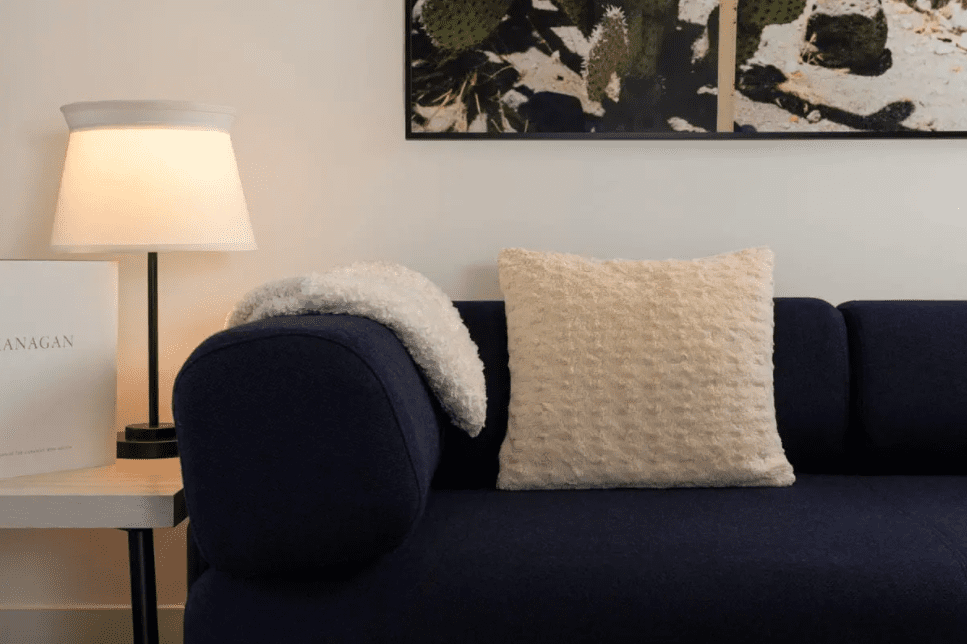 End your visually-memorable day at The Shore Kelowna
Once your sightseeing is said and done, you'll likely want to relax in the comfort of your own space. Only 12 minutes from your final stop, The Shore Kelowna offers beautiful accommodations for short and long-term vacationers. Enjoy modern amenities, high-speed wireless internet, on-site dining options, and spectacular views of Okanagan Lake.
Location: 3499 Lakeshore Rd
Explore our suites and book your stay, today!
Ready to get started? Navigate the city using this artistically driven map.
While you're out and about, keep your eyes open for some of Kelowna's many public art displays. For more information on where these are located, check out the City of Kelowna's Mobile Public Art Tour.