Whether you're sticking to a budget, following a diet, or just looking to enjoy a home-cooked meal, your suite at The Shore will have everything you need to indulge your culinary desires. Our fully equipped suites feature full-sized kitchens and ample cooking space so you'll feel right at home.
When planning what to cook at The Shore, we have a few tips to keep in mind:
Keep your recipes simple so you don't buy up the whole store. This will help to minimize waste and cleaning, especially on those shorter stays.
Don't get too ambitious. Stick to dishes you know you can prepare and won't take all day – now is not the time to try your hand at a Duck Pâté en Croûte. Sticking to these two simple rules will help ensure you spend less time cooking and cleaning, and more time enjoying your vacation.
If you're looking for inspiration, we're here to help! Here are our 5 favourite recipes and meals to cook on vacation.

Our Top 5 Meals to Cook in your Suite
1. Buddha Bowls
The first on our list is buddha bowls. This quick and healthy option is endlessly customizable and always delicious. While this isn't a step-by-step recipe, it breaks down all the essential elements that go into making the perfect buddha bowl. Pick your favourite ingredients or use what's in the fridge to whip this up. And don't forget the sauce!

2. Easy Stir Fry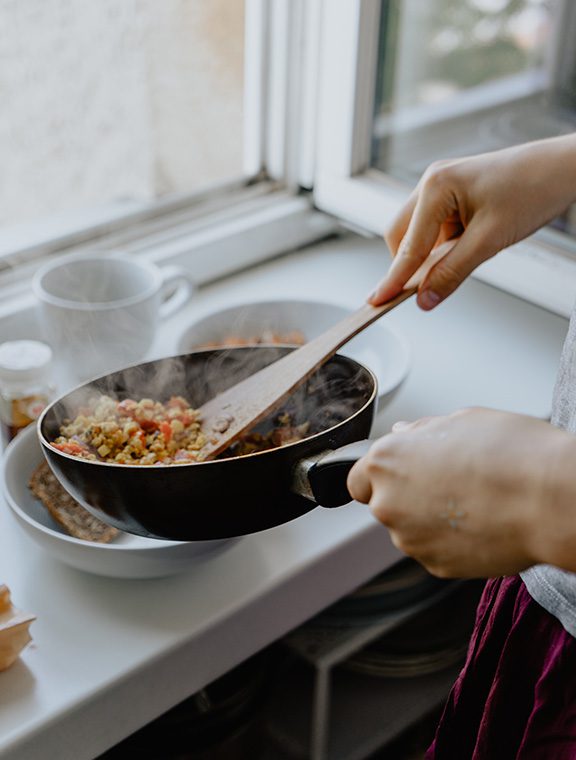 Stir Fry's are another great option for an easy whole food packed meal while on vacation. This recipe is easy to follow and includes variations to customize the dish to your liking.

3. Shrimp, Sausage, and Asparagus Sheet Bake
Looking for an elevated dining experience without the work and mess? This sheet pan dinner recipe will do the trick! Just chop your ingredients, toss them on a pan, and they're ready for the oven. After 15-20 minutes, voila! You've got an appetizing meal that's perfect for sharing. If the homemade aioli sounds like too much work, sub the egg and olive oil for 1 cup of mayonnaise.

4. Broccoli Chicken Mac & Cheese
Who doesn't love mac and cheese? This simple yet satisfying recipe has a full meal packed in a bowl of delicious goodness. Whether you're looking for something cozy after playing in the winter wonderland or are after a satisfying meal with minimal prep, look no further.

5. Tacos!
You'll never go wrong with taco night. Requiring minimal prep and cooking, tacos are a satisfying option for even the pickiest of eaters. They might just be the ultimate family dinner, especially while on vacation. If you're looking to add some additional excitement to your taco night, consider a hot sauce tasting or mixing in some new ingredients you wouldn't normally use. You're on vacation after all.
No matter what you're craving, The Shore has the space and supplies to make it happen. Follow one of these great recipes, try your own, or visit one of the many restaurants near your suite. Be sure to check out our recent blog on the Best Restaurants in Kelowna.
In addition to a full-sized kitchen, each suite includes a toaster, kettle, French press coffee maker, pots, pans, cooking utensils, plate ware, bowls, cutlery, coffee cups, red and white wine glasses, and mixing bowls. With everything you need for breakfast, lunch, and dinner, all you have to do is bring the food.
Explore our suites today!