There's a reason why it's called 'The Napa of the North.' Like its California counterpart, people flock to the Okanagan Valley for its sunshine, warmth, wineries—and so much more. This year, if you can't make it to Palm Springs, Phoenix or Florida for the Winter, there's no need to stay home. You can still head south and enjoy an idyllic winter at The Shore, Kelowna's vacation rental of choice.
If you're considering how you can still live the snowbird life and stay in Canada this winter, we have five compelling reasons to make Kelowna, and The Shore, your temporary home.
#1. Avoid Travel Uncertainties.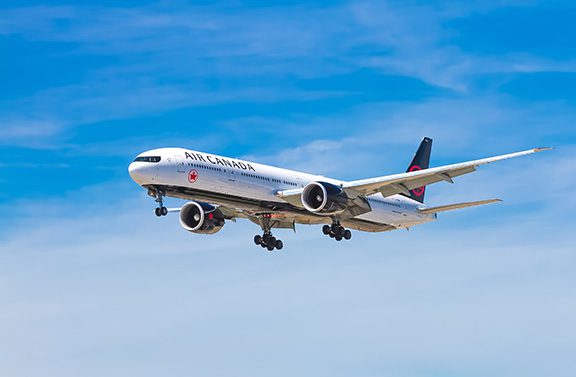 When it comes to travel, the past two years have been anything but certain. Between the pandemic, fires, floods and travel restrictions, it's difficult to plan a few weeks out, let alone a whole season.
Just yesterday afternoon, the United States announced updated air travel restrictions in response to the Omicron COVID-19 variant. This included tightening the testing requirements for air travel, regardless of vaccination status.
For many snowbirds, the trek down south is made in an RV. Up until recently, with US-Canada land border closures, this hasn't been an option. At the time of writing this, land borders are now operating at reduced capacity and with limited hours. This will remain in effect through January 2022 and may be extended. Fully vaccinated foreign travelers now are able to cross land borders, but with how quickly things change, many are choosing not to.
#2. Enjoy some of Canada's Mildest Winter Weather.
Imagine this: It's February. Long past the twinkle of Christmas, and it snowed overnight, again. Your car is buried up to the door handles, and with the windchill, it's nearly -25C and it's going to get colder overnight.
But! You are in Kelowna, hearing about the weather from your next-door neighbour, who decided to stay in Winnipeg or Regina or Edmonton and tough out the winter at home.
According to Tourism Kelowna, February's average low is just a balmy -5 C, and it often reaches the average high of 4 C. You'll hardly wear your winter coat in weather like this. On morning walks with your partner along the lake, most days, your sweater and your coffee keep you warm.
Kelowna also enjoys:
304 days of sunshine per year
2,000 hours of sun every year
Instead of shovelling out your car, you can sip your morning coffee in your light-filled suite. You can peacefully soak up the views of the sun, shimmering on the lake and the hills beyond.
#3. Stay Active & Enjoy Kelowna's Winter Activities.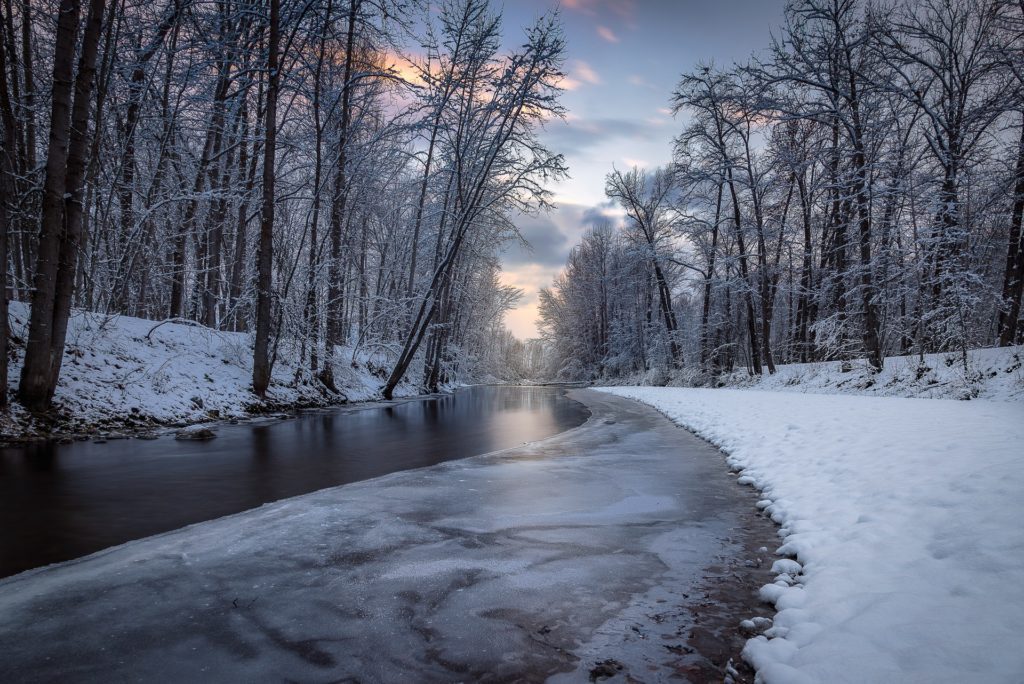 The beautiful thing about winter in the Okanagan, particularly Kelowna, is that you actually get to enjoy it. With mild temperatures and a plethora of world-class winter activities, The Shore is an ideal home base for enjoying:
Nordic skiing, cross-country skiing, and snowshoeing at Kelowna's Big White Ski Resort, offering coveted Okanagan Champagne powder (and sunshine!). You can also enjoy hitting the slopes at Silver Star Ski Resort near Vernon and Apex Ski Resort near Penticton. Check out our blog post on Kelowna Winter Sports to learn more.
Walking on a network of urban and mountain trails. Just down from The Shore you'll find access to the Mission Creek Greenway, a family-friendly 26km walking trail along the creek. If you're looking for some adventure, Kelowna offers many great hiking trails. Check out our blog post on Hiking in Kelowna for our top recommendations.
Golf, often until late fall and starting again in early spring; discover 19 exceptional courses that make Kelowna one of Canada's premier golf destinations.
Wine tasting, with your choice of 40 wineries within a 20-minute drive, many open year-round. Explore our local guide to the Best Kelowna Wine Tours, here.
#4. Find Hotel Hospitality With All the Comforts & Familiarity of Home.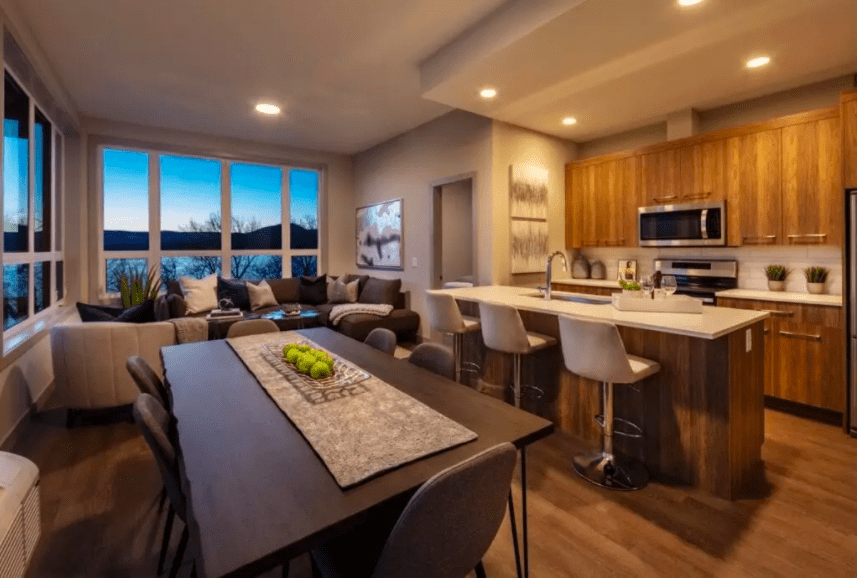 The Shore was designed as an extended-stay hotel that would feel like home, while giving you the ease of being on holiday.
Here are just some of the suite features you'll love:
Private balconies
In suite, state-of-the-art culinary kitchens
Custom-designed modern furniture
4K flat-screen LG TV's
High-speed wireless internet
In-suite washer and dryer
Community outdoor terrace with a fireplace and Weber stainless steel barbecues
Guest lounge
Mobile digital key entry and eConcierge
It's easy to choose the suite that fits your needs, with a selection of one, two and three-bedroom suites. With either a lake or mountain view, you'll love everything about the lakefront Lower Mission location. You'll be footsteps away from some of the city's most treasured boutiques and restaurants, as well as transit routes and trails.
Learn more about our vibrant neighbourhood, including the restaurants downstairs and the best restaurants in the area.
#5. Stay for as Long as You Like, We're Flexible.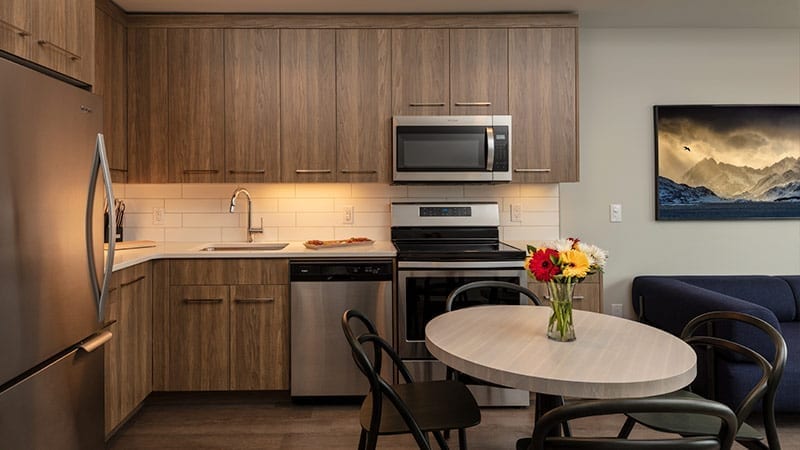 The Shore Kelowna is a hybrid hotel-apartment that offers extended stays. You can choose whether you'd like to stay for a few days, weeks, months and beyond! We're also pet-friendly, meaning no furry family members have to stay behind.
If you've decided to head South of the border, we'd love to be your stop over for a few nights along the way. If you want to settle into Okanagan living for the whole winter, we'd love to have you come live with us.
Operated by Appelt Management, you can rest assured that your stay at The Shore will meet and exceed your expectations. With professional property management, you don't have to worry about plans unexpectedly changing or accommodations not matching what you see online. At The Shore, you'll find everything you planned for, and more.
The Shore is a Sure Thing
Right now, the typical snowbird journey brings uncertainty. It's hard to tell what will happen across the border and in the coming months. Many snowbirds want the reassurance of knowing they're making the best decisions for their health, and that they'll be able to come back to Canada if and when they need to.
Staying at The Shore in Kelowna is your next-best destination for a warm, worry-free Winter away from home. With plenty of winter activities to keep you busy, hotel-like amenities, home-like comforts, and the flexibility to stay for as long as you choose, it's easy to see why snowbirds are flocking to The Shore this winter.

Explore our suites or book your stay today!