The Okanagan Valley is a beautiful natural playground that is as enjoyable in the summer as in winter. It can be just as fun to try your hand at some snowy activities up at Big White or enjoy a day pedalling the rail trail on bikes. There are also lots of events and races locally to participate in.
Regardless of what brings you to town, you'll need some gear to enjoy Kelowna's plentiful outdoor activities. Whether you're a local looking to add to your gear closet or you're coming for a stay and in need of rentals, we've got a list of the best places to get sporting goods in Kelowna.
Sports Rentals in Kelowna
With air travel being the way it is lately, there's a very valid concern that your bags may not make it on the same flights as you. To avoid stress and potential issues, leave your gear at home and grab some rentals in town.
Bike Rentals
One of the best ways to see the city is on two wheels. Don't worry if you didn't bring your own bike – there are many places to rent bikes in town. Kelowna Bike Rentals (owned and operated by two local charities!) offers a wide range of street bikes, e-bikes, hardtail mountain bikes, and adaptive bikes and equipment. In addition to bike and e-bike rentals, Lakeside Eco-Sports also offers tours and activities for the whole family.
For those looking to get out of the city, Myra Canyon Bicycle Rentals gives you the opportunity to explore the Kettle Valley on rental bikes between May and October. Pedego Oyama is another option situated in the heart of Lake Country, giving you the opportunity to visit some local lakes and wineries.
SUP and Board Rentals
When it gets hot in the summer, people head to the sunny shores of Okanagan Lake to cool down. Get out on the water with the help of a standup paddle board rental from the Kelowna Paddle Centre or right on the water with Okanagan Beach Rentals, who also do other kinds of boats and watercraft.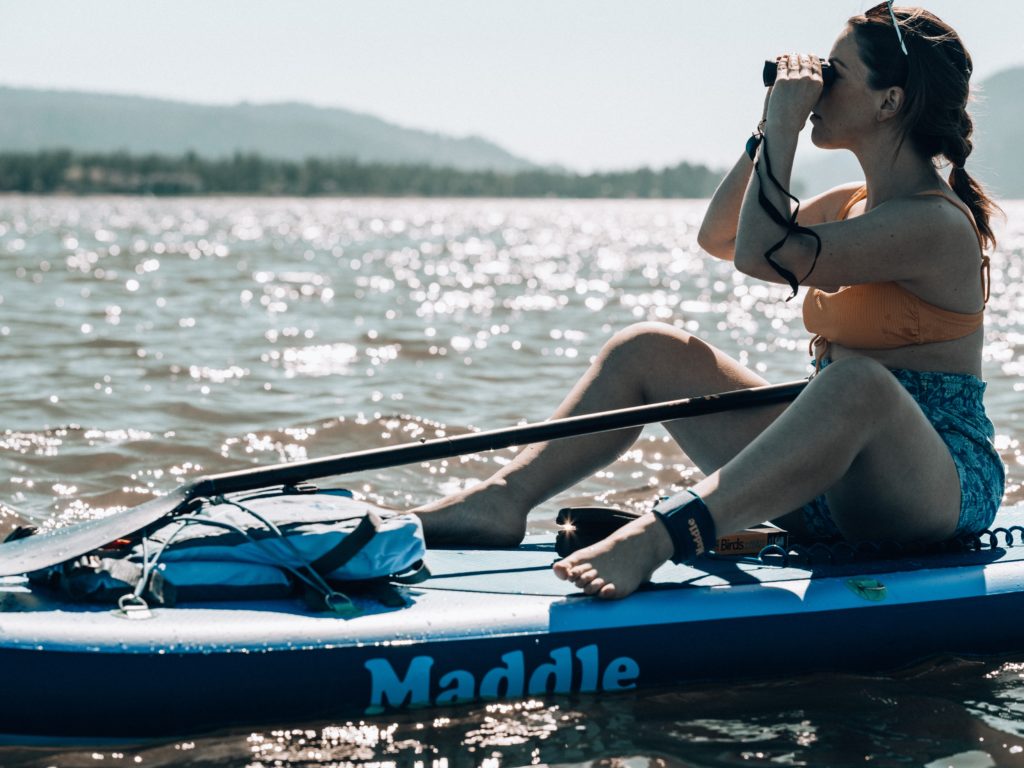 Ski and Board Rentals
If you're coming to Kelowna for winter activities and want to travel stress-free, there are plenty of ways to still enjoy your time here. Our local hills – Big White and SilverStar – have downhill skis and snowboards to rent. Get out on the skinny skis up at Kelowna Nordic for a good workout.
Buying Sports Gear in Kelowna
Whether you're local and looking to grab some sports for a new hobby or are coming in from out of town and are looking for an excuse to upgrade your gear, there are a few shops around town to help you out.
Play It Again Sports
If you're looking for new or used equipment, Play It Again Sports Kelowna is the place to go. Especially if you're shopping for kids that grow out of their gear so quickly. They have equipment for a variety of sports as well as other outdoors activities, such as camping, hunting, and fishing.
1778 Baron Rd, Kelowna, BC
12 min drive from The Shore
Atmosphere Kelowna
Get great camping gear and provisions for other outdoor activities at Atmosphere. They've got everything you need to get you moving outdoors – from snowshoes to tents, hydration packs, paddleboards, clothing, and more.
1835 Dilworth Dr, Kelowna, BC
11 min drive from The Shore
MEC Kelowna
Our favourite one-stop-shop for outdoor and sports gear and supplies is the Mountain Equipment Company, or MEC as it's affectionately called by frequent visitors. Load up on bars and gels for your next race or re-up on climbing ropes for your next adventure out to the world-famous Skaha Bluffs.
Sport Chek
Another go-to spot for sports gear is Kelowna's Sport Chek. Their wide variety of sports equipment and clothing ensures you'll always find what you're looking for (and maybe some things you didn't realize you were?).
2271 Harvey Ave Unit #1410, Kelowna, BC
11 min drive from The Shore
To Activities and Beyond
With lots of opportunities for outdoor activities and sports, Kelowna has many options when it comes to getting the gear to get you outside. And after a full day of activities, you'll want to enjoy a nice beverage on one of our fabulous patios, or hunt down the city's best pizza or Mexican food.
Staying at the Shore
Stay with us to enjoy all the exciting activities Kelowna has to offer. With all the comforts of home plus spectacular views and amenities steps from the front door, The Shore is the perfect jump off spot for a weekend of SUPing on the lake or pedalling around town.
Learn more about our suites to start planning your stay today!