Kelowna is a young and bustling city with a growing population of young families. The city is bright and upbeat with many of the conveniences you'd expect from a larger city. Despite this, it maintains a small-town feel and close connection with nature. For all ages, Kelowna has a great selection of parks and outdoor recreation areas.
The Shore Kelowna accommodations are centrally-located to all Kelowna has to offer, with suites that provide flexibility and choice for any sized family and budget. Using this as your home base, you'll never be too far from your next activity, whether it be at the lake, in the city, or at a park.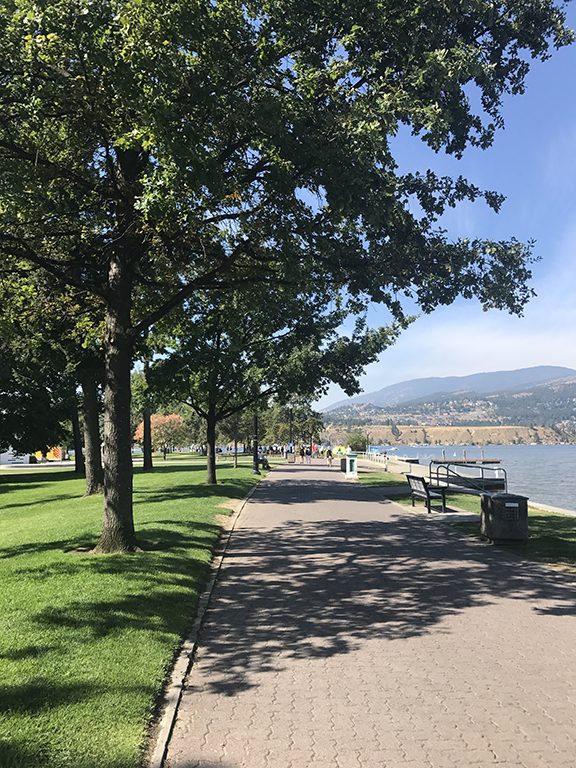 Planning a Fun Day at Kelowna Parks
Pack a picnic – choose from one of The Shore's nearby dining options and bring it to your favourite Kelowna park.

Watch for wildlife – Kelowna has a variety of different species including birds, deer, and squirrels.

Play a game – bring a ball, frisbee, or other outdoor game to make the most of your visit to the park.
Here are four family-friendly parks in Kelowna to visit during your stay at The Shore.
1. Boyce-Gyro Park
Located just steps away from The Shore, Boyce-Gyro Park is one of Kelowna's most popular beaches. With its setting along Okanagan Lake and all the amenities, it's easy to understand why. Equipped with a playground, rope swing, volleyball courts, washroom facilities, a snack venue, and watersport rentals, it truly has everything you need. With its close proximity to your suite at The Shore, this is the perfect place for a quick trip to the beach or a full-day excursion. The choice is yours!
Find directions to Boyce-Gryo Park here.
2. Mission Creek Park
Mission Creek Park is a smaller park with a playground, gorgeous scenery, and plenty of shaded areas perfect for picnicking. It is also conveniently connected to Mission Creek Greenway, a beautiful long stretch of walking trails that follows Mission Creek. This trail connects to interpretive viewing areas, trail systems, and, of course, parks. This is a great Kelowna park to enjoy a walk, play in the grass, or relax in the shade. Located on Benvoulin Road, it's a quick 10-minute drive from The Shore,
Find directions to Mission Creek Park here.
3. City Park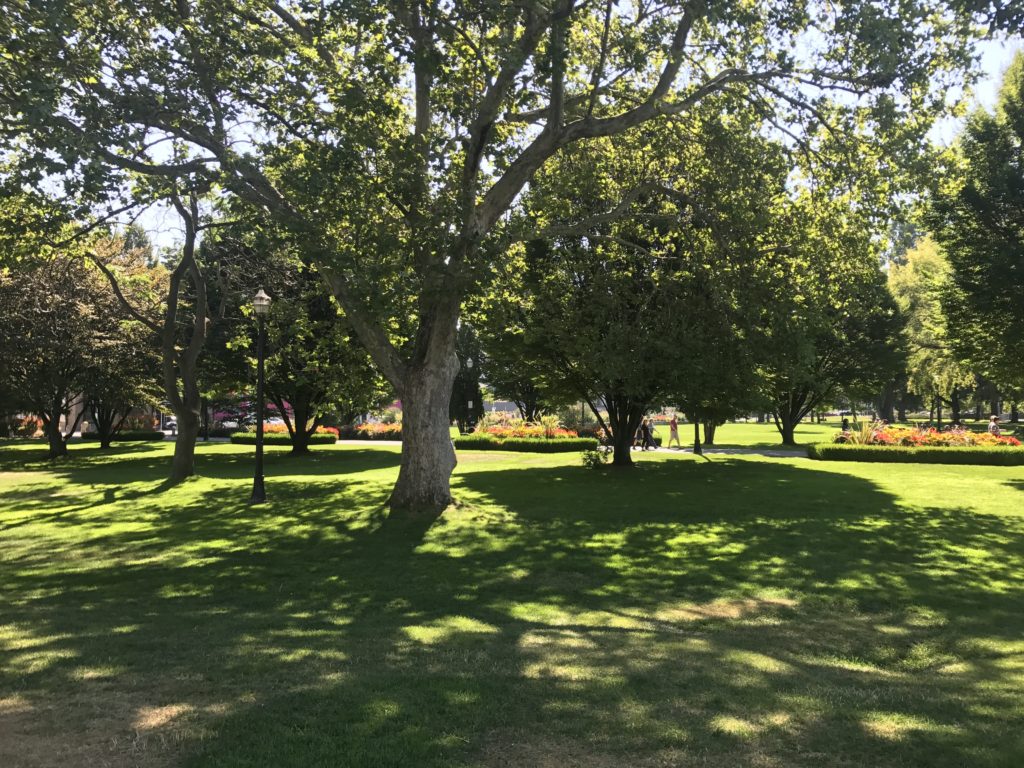 Located in the heart of downtown Kelowna and a short distance from The Shore, Kelowna's City Park is a wonderful lakefront park to enjoy with your family. Complete with a sandy beach, multi-sport courts, washroom facilities, a skateboard park, waterpark, and a Wibit Splash Park, this is a popular destination for young families.
After a long day of playing in the water and sun, a picnic in the park might be in order. City Park is just a short walk from Bernard Street where you can choose from a large variety of Kelowna restaurants. Use take-out options to pack the perfect picnic and satisfy even your pickiest eaters.
Find directions to City Park here.
4. Strathcona Beach Park
Closer than City Park, but further than Boyce-Gyro, Strathcona Beach Park is a great park in Kelowna that's loved by locals. It's a little off the beaten path, which means it's usually much quieter than either of the fore-mentioned parks. This makes it an extra-enticing option for those looking to beat the crowds and get away from the city feel. Strathcona Beach Park is complete with sandy beaches, a lakefront playground, a protected swimming area, and a nice open field.
Find directions to Strathcona Beach Park here.
Park Fun for the Whole Family
Whether you're after a classic Okanagan beach vacation or looking to pack your days with outdoor adventure, The Shore Kelowna has everything you could desire. Each 1-3 bedroom suite features a modern kitchen and private balcony, just minutes away from multiple Kelowna parks. Located in Kelowna's South Pandosy neighbourhood, The Shore is an ideal base for any Okanagan vacation.
With family-friendly rates and flexible stays, it's easy to make The Shore Kelowna your ultimate family vacation spot. Browse our vacation suites to learn more or book your stay today!