Summer vacationers love the Okanagan's warm sandy beaches, cool waters, and gorgeous mountain views. But where's the best place to stay to take it all in? You might imagine a lakeside cabin, a campground, or the view from your RV as your ideal summer spot, but since the pandemic, more and more travellers are choosing extended stay accommodations.
If you're looking for a lakeside Kelowna stay that's close to nature, The Shore Hotel offers a modern take on the summer cabin experience. Thanks to our South Pandosy location next to Okanagan Lake, there's no shortage of fun things to do and you'll have everything you need for a safe summer holiday.
Here are five ways that extended stays provide a great Okanagan cabin rental alternative.
1. Enjoy Summer at Your Own Pace
Kelowna's location next to Okanagan Lake and between 3 stunning mountain ranges makes it an ideal base for activities. Whether you're after a classic beach day or an action-filled day of excursions, extended stay hotels offer the best of both worlds.
Okanagan Lake is one of BC's best places for boating, waterskiing and wakeboarding. At Kelowna's Gyro beach you'll see stand up paddleboarders show off their form, kiteboarders riding the wind, and kids ziplining across the beach.
Hikes like the McDougall Rim Trail and the KVR Trail lead to jaw-dropping vistas over the Okanagan Valley. More adventurous types can test their mettle in South Kelowna's renowned rock climbing spots like Lonely Crags, or ride mountain bikes through the Crawford trail network.
Best of all, you can feel safe knowing that Kelowna General Hospital is just 5 minutes by car.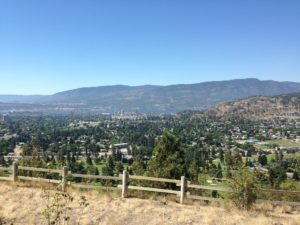 2. Get Close to Nature, But Not Too Close
Vacationers crave the seclusion and privacy of cabin rentals, but often forget what it's like to be alone in the woods. Dirt roads can lead to very long travel times, which means having less time to do what you really want. BC's mountain regions are also known for nuisances like mosquitos, ticks, and leeches.
Extended stays make it easy to enjoy summer in Kelowna. For a dose of nature, walk along the Mission Greenway to spot turtles on the magical Evelyn Island, go birding at the Maude Roxby bird sanctuary, or stroll through the famous Kasugai gardens downtown.
In Kelowna you'll find deer, marmots, and over 300 different bird species, but bears, cougars, and coyotes are rarely spotted in town.
3. Accommodations for Your Whole Crew
Extended stay hotels make it easy to convince your group to come along. The Shore Kelowna has suites with up to 3 bedrooms and 2 bathrooms next to Boyce-Gyro Beach Park. Suites come fully equipped with spacious kitchens, in-suite laundry, fast internet, 4k TVs, and private balconies to enjoy the gorgeous Okanagan views.
Pets are welcome at The Shore, so bring your four-legged family members as well. You'll appreciate knowing that Fido won't wander off into the woods or meet any wild animals, while giving them the freedom to explore Kelowna's dog parks and walking trails.
4. A More Private Place to Unwind
Summer cabins are known for being quiet and secluded, but it only takes one group of loud neighbours to spoil the tranquility. If you like having fun, but also appreciate a good night's sleep, check out extended stays like The Shore Hotel. Our rooms have plenty of space to enjoy cooking, playing games, and socializing, but also give everyone the space they need to unwind at the end of the day.
Our no contact eConcierge service means you won't have to deal with the usual hotel routine during check in or check out. 
5. Your Summer Holiday Done Right
Summer holidays shouldn't come with a list of drawbacks. If you've stayed at a summer cabin, you'll know how it is to hang out with the same crew night after night. The last thing you want is to run low on beverages, get stuck playing Settlers of Catan on repeat, or fix a broken bike chain. You'll never get cabin fever at a modern extended stay like The Shore.
Our suites are a leisurely stroll away from restaurants like Famoso Pizzeria, Basil & Mint, and Smack Dab. If cooking is one of your summer traditions, shop for groceries at Urban Fare or Save on Foods, and buy wines at a fair price from the BC liquor store.
Unlike cabin life, you won't have to bring linens, cookware, or dishes to stay at The Shore's well-outfitted suites. Our dry clean and laundry service will keep you looking your best, and if you forget something, the shops and boutiques along Pandosy Street have all the essentials.
Start a Tradition Worth Repeating
Short term rentals and extended-stays offer a modern, plush alternative to the traditional summer cabin experience. Whether you're after classic beach days or adventures into the great outdoors, you'll find what your heart desires at The Shore.
We're located in Kelowna's South Pandosy neighbourhood, an ideal base for Okanagan summer activities like boating, cycling, and rock climbing. Take a morning stroll down Gyro beach, eat at a lakeside restaurant, and enjoy your summer holiday at your own pace.
Our hotel has a variety of bookable rooms ranging from studios to spacious 3-bedroom suites. With family-friendly rates and flexible stays, it's easy to make The Shore Kelowna your summer cabin alternative.